"May all your wanderings this weekend, good friends, make all the dark spaces into vessels that bloom beauty." Ann Voskamp
She had a cat named Pyewacket and a wounded heart. Her house was just a block or two from our elementary school, and we sometimes walked home together part of the way. She never spoke about the pain, how her father just disappeared one day, how her mother sought solace in smoke, a bottle, and an endless line of boyfriends. Even if she had, I wouldn't have understood. Three little girls left fatherless.
We did understand the fun we had in girl scouts all through junior high and beyond when it was no longer "cool" to wear your uniform to school. Her older sister "dropped out" and moved away, her younger sister moved in with family friends, and she and her mom moved to an apartment. I taught her how to drive a stick shift Renault, the same little car that a classmate totaled by ramming it with a huge American car. She says that accident taught her early that automobiles were deadly weapons.
We became fans of Peter, Paul and Mary, and spent many a weekend listening to their albums, trying to wrap our fingers around the chords and our voices around the harmonies. I always admired her independence and intelligence, her wacky sense of humor, her vulnerability and her strength. I never saw the darkness in which she walked, the fear that was her constant companion. The emptiness. The longing for safety and love.
We lost track of each other after high school. I visited her and another friend once while they were away at a junior college, and envied the year she spent with a German family. She was a free spirit, stretching her wings in Europe, and I was stuck at home, a college commuter.
Last weekend we got together again. She was as beautiful as she was in high school decades ago. As we shared our journeys, I became aware of how much of her story I had never known, of how miraculous was her resilient soul. She was accompanied by a little dachshund named Sara. Loving, independent, brave, compassionate Sara. Just like her human friend.
We briefly laughed through our senior yearbook, watched Sara chase disbelieving cows, and visited a delightful garden and event center nearby.
We both love flowers, and she brought some from her garden. That gift still makes me smile when I pass by the table they adorn.
She has seen so much more than I, much more of the bad, and survived with sensitivity and humor, turning the hurting into healing by working with foster kids who have outgrown the "system", tending them as carefully and lovingly as she tends her garden.
In the process she has learned how to make her dark spaces into vessels.
Vessels that bloom beauty.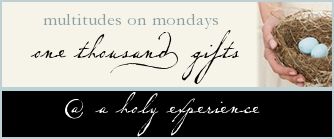 Counting with the Community of Gratitude:
324. friendship that survives the drought of time together
325. color
326. blooms
327. well tended gardens
328. well tended hearts
329. time to sit in silence
330. time to share
331. Sara's bounding love
332. God's grace
333. a cool breeze
334. a beautiful weekend
335. weekend words
336. vessels
337. beauty
338. laughter
339. acceptance
340. migrating monarchs
341. walking the pasture
342. the gifts we are to each other
343. memories
344. the road ahead